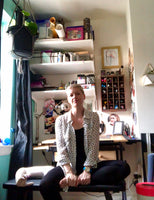 Artist: Stevie Laney
Stevie Laney is an artist currently residing in south Philadelphia, PA. She studied illustration in San Francisco at the Academy of Fine Art. She later moved to the east coast to Philadelphia where She got her Post Baccalaureate at the Pennsylvania Academy of Fine Art.
Stevie is an erotic, sex positive, body positive artist. She loves to draw and finding new ways to show her work.